Suggestions for your reading or viewing. Please let us know your suggestions for books, films, websites other members may be interested in.
MAY 2022 IDEAS - our last bookshelf for this season - do send in recommendations over the summer ...
Me, Myself, I: Artists' Self-Portraits
The RWA re-opening exhibition - from May 2nd
(Image: Tony Bevan RA photo: John Hammond). Discover artworks by major artists such as Grayson Perry, Tracey Emin, Antony Gormley, Lucian Freud and many more from the 1720s to the 2020s. This landmark exhibition provides historical context to today's selfie culture, through an exploration of self-portraiture over the last three hundred years.
For details and tickets - click here.
The Lost Notebook of Édouard Manet by Maureen Gibbon
Toward the end of his life, Édouard Manet notes his daily impressions, reflections, and memories. In a sensual portrait of Manet's last years, illustrated with his own sketches, Maureen Gibbon offers a vibrant testament to the endurance of the artistic spirit.
Magritte: A Life by Alex Danchev
René Magritte, a middle class Belgian gentleman, but whose surreal sensibility and melodramatic paintings have all become part of our times. In this, a Sunday Times book of the Year, Alex Danchev explores the path of an highly unconventional artist who posed profound questions about the relationship between image and reality.
Still on - 2021 Wildlife Photographer of the Year & Grayson's Art Club
Bristol Museum's excellent exhibitions are still on! Don't miss these beautiful, inspiring and thought-provoking wildlife photographs or the creations from Grayson's TV series. Click here for details.
APRIL 2022 IDEAS
Van Gogh: The Immersive Experience
Starting April 2022
This amazing experience comes to Bristol. Propyard, one of the most iconic venues in Bristol becomes now the home of Van Gogh: The Immersive Experience. This spectacular building's high ceilings and open spaces provide the best conditions for Bristol's newest expansive exhibit. Not to be missed.
For details and tickets - click here.
St Peter's Church, Henleaze
On now - 9am - Dusk every day...
What can we learn today from the 14th century poet Dante? Italian poet, writer and philosopher, his Divine Comedy is widely considered one of the most important poems of the Middle Ages and the greatest literary work in the Italian language. His depictions of Hell, Purgatory and Heaven provided inspiration for Western art and literature, influencing Geoffrey Chaucer, John Milton and Alfred Tennyson. See here.
On until 15 May 2022
at The National Gallery, London
Recommended by FB - Last seen in the UK in 1922, this is the first time the painting has been loaned by The Huntington - and is a once-in-a-century opportunity to see this iconic work in the UK. 'The Blue Boy' represents the best of 18th-century British art and is Gainsborough's eloquent response to the legacy of Van Dyck and grand manner portraiture. Click here for details.
The King's Painter: The Life and Times of Hans Holbein by Franny Moyle
Celebrated for his beautiful and precisely realised portraits, Hans Holbein the Younger was a protean and multi-faceted genius: a humanist, satirist, political propagandist, and contributor to the history of book design as well as a religious artist and court painter. Here, Franny Moyle traces and analyses the life and work of this extraordinary artist against the backdrop of an era of political turbulence and cultural transformation.
MARCH 2022 IDEAS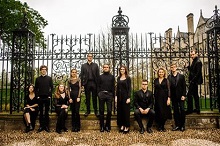 Clifton Cathedral Concert for Lent
Friday 1st April 2022, 7:00 pm
Thank you to new member DM for this recommendation. This magical event is an hour-long concert of choral music, exploring themes of repentance, lamentation and petitions for mercy.
For details and tickets - click here.
St Mary Redcliffe, POSTPONED AGAIN due to Covid
Rescheduled for 31st March 2022, the Preludes Concert - organised by the Bristol-based charity transforming lives by putting classical music at the heart of education - for which originally sponsored the hiring of the Church, as a Young Arts project, in 2020 - has again been postponed. We will all be invited at that time! For details - see here.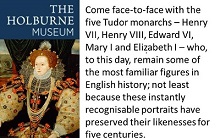 On Now
at The Holburne, Bath
The Tudors: Passion, Power & Politics
Some of the most iconic images in British painting, including the 'Darnley' and 'Armada' portraits of Elizabeth I. Several of the works have never been shown outside London. Click here for details.
Peter Blake: Collage
by Clare Preston with a foreword from David Hockney
We probably all remember the cover of the Sergeant Pepper's album and this fascinatiing book, with over 250 illustrations, explores his use of the medium of collage throughout his career spanning seven decades from student days though the pop art years and beyond.
FEBRUARY 2022 IDEAS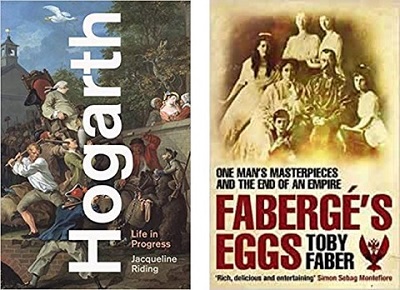 Ideas for a London Visit
from our Study Day Secretarie
Some books to inspire a trip - "Hogarth: Life in Progress" by Jacqueline Riding and "Faberge's Eggs: One Man's Masterpieces and the End of an Empire" by Toby Faber.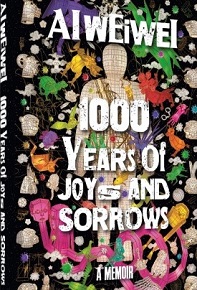 1000 Years of Joys and Sorrows
by Ai Weiwei
The story of two lives, one nation, and a century of art under tyranny. Here, through the sweeping, extraordinary story of his own and his father's lives, Ai Weiwei tells an epic tale of China over the last 100 years.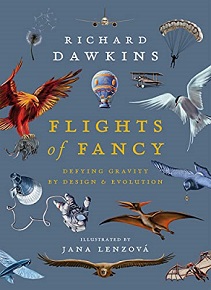 Flights of Fancy: Defying Gravity by Design and Evolution
by Richard Dawkins
Something a little easier from Richard Dawkins - a beutifully illustrated and truly fascinating read, sufficiently light-hearted to be entertaining for all ages.
JANUARY 2022 IDEAS
City of Women: Female Artists in Vienna from 1900 to 1938
by Sabine Fellner & Stella Rollig
Recommended by JN - many important women artists carved out successful careers in early 20th-century Vienna. They exhibited across Europe, and their work was acquired by royal, state, and private collectors.
More from David's Ipad
A book from 2021 based on a wealth of conversations and correspondence between Hockney and the art critic Martin Gayford with exchanges illustrated by a selection of Hockney's new, unpublished Normandy iPad drawings and paintings alongside works by van Gogh, Monet, Bruegel, and others.
Available now
Do you know which chemical element gives Bristol Glass its distinctive blue colour or where might you find Western Spike Speedwell, Fingered Sedge and Autumn Squill? Perhaps a little late for Xmas, but still fascinating - a quiz of Bristol Miscellany from Bristol Books. All the answers can be found in their excellent publication Manson's Bristol Miscellany.
DECEMBER 2021 IDEAS
NOVEMBER 2021 IDEAS
Thomas More: A Very Brief History
by John Guy
Recommended by member JN. John Guy is an expert on this period and this is a slim volume so not daunting for non-historians to read. For us, it is of particular interest where it touches on the work of Hans Holbein the Younger. More was an early commissioner of Holbein's work when he arrived, penniless, in London.
John Nash: The Landscape of Love and Solace
by Andy Friend
Of particular interest to those on our Compton Verney Study Day Visit visiting the exhibition of the same name. Recommended as a beautiful and well-written book, it draws on original research and describes an intimate picture of John Nash, his work and his relationships with his wife and other artists of the period.
November 28 & 29
The annual Trail in North Bristol - 2021 will be the 20th anniversary of the first NBA trail - and they are hoping to have some very special events to celebrate, as well as make up for the face-to-face events missed in 2020. Look out for a huge variety of skills - from abstract and fine art to embroidery, mosaics, weaving and woodturning!
Meet and talk to the artists, view their work, and learn about all the processes involved. Click here.
The Places In Between
by Rory Stewart
Following our fascinating lecture on tribal rugs in September, member HA recommends Rory Stewart's account of his walk across Afghanistan in January 2002 which was immediately hailed as a classic of travel writing - a moving, poetic vision of an awesome landscape and it's peoples.
OCTOBER 2021 IDEAS
SEPTEMBER 2021 IDEAS
3 recently read
Thank you to member SH for these ideas
The Vanishing Half by Brit Bennett (Shortlisted for the Women's Prize 2021)
Small Pleasures by Clare Chambers (Longlisted for the Women's Prize for Fiction 2021)
The Dutch House by Ann Patchett (Longlisted for the Women's Prize 2020)
Ships of Heaven: The Private Life of Britain's Cathedrals
by Christopher Somerville
Recommended by Church Recorder KF, "Christopher writes beautifully about a selection of fine cathedrals, from Romanesque Durham to 20th century Coventry. He talks to clergy and staff, guides and stonemasons to explore the unusual from crypts to spires".
September 4th & 5th
The annual Trail in BS9 - a well established part of the Arts calendar in Bristol with around 70 artists exhibiting in both group and individual venues throughout the BS9 area.
Meet and talk to the artists, viewing their work, and learning about all the processes involved. Click here.
Online from 13 - 23 Sep 2021
Offering the chance to purchase unique works of art by leading figures from the art and cultural world, while supporting the RWA as a registered charity.
Click here.